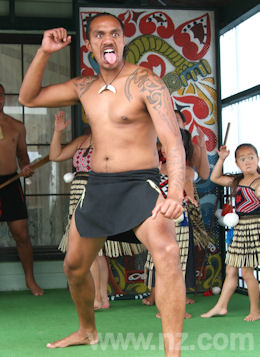 Maori Culture in Rotorua
Rotorua is the Heartland of Maori culture and the spirit and heritage of local Maori enriches the region as surely as the geothermal activity enlivens it. Ngati Whakaue, the name of the local tribe, arrived in Aoteroa New Zealand, aboard the waka (canoe), Te Arawa. The people are often called Te Arawa, for the name of the mighty waka that brought Tamatekapua, the leader of the tribe, and his people to Ohinemutu on the bank of Lake Rotorua.
Note: Te Arawa is often used to describe the extended tribe descended from Tamatekapua. Ngati Whakaue is just one of these.
The hospitality and generosity of the Ngati Whakaue people goes right back to early European visits when the tribe became the very first guides to the magnificent natural wonders of their homeland. This warm and welcoming attitude is alive in the local people today and Rotorua is a tourist destination with a tradition of expressive joy and energy in sharing the rich culture and lush landscape.
There are ample opportunities to witness the deeply moving expressions of Maori Culture in Rotorua. Legends, stories and history come to us through an abundance of creative medias; music, art, carvings, poi dancing and the famous Haka.
See a complete list of Rotorua Maori activities.
This week's featured Maori cultural activities in Rotorua are:
Featured Maori Cultural Activities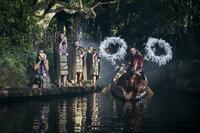 Maori - Rotorua - Starting from $130.00 per person
Complete your adventure through Rotorua with a traditional Maori "hangi" feast. You'll travel by coach to Tamaki Maori Village where your local guide will escort you on a cultural journey to the "marae" (Maori village), the life force of New Zealand's indigenous people. Take the opportunity to engage in an evening of local customs including a traditional Maori dinner feast.
More...
---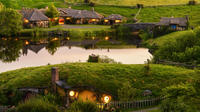 Maori - Auckland - Starting from $585.00 per person

Hobbiton, Waitomo, Rotorua, Huka Falls & Taupo!

Be guided through the galaxy of glowworms at the world famous Waitomo caves. Journey through Middle Earth on the award-winning Hobbiton movie set tour.  Experience the truly amazing geothermal activity of Rotorua and the Taupo Volcanic Zone, a true 'hotspot' of wonder! 

All this on a 2-day fully guided small group with one of our exceptional guides, in a comfortable vehicle that takes care of you in style. More...
---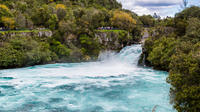 Maori - Rotorua - Starting from $50.00 per person

Visit the most visited natural attraction in New Zealand on this half day afternoon tour perfect for those with a tight schedule!

The Huka Falls are the largest falls on the Waikato River, near Taupo on New Zealand's North Island. The Waikato river is one of New Zealand's longest rivers and it drains Lake Taupo - the largest freshwater lake in all of Australasia.

At the Huka Falls, the Waikato River which is normally 100m wide, is forced through a 20 metre wide gorge and over a... More...
---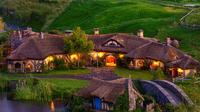 Maori - Auckland - Starting from $465.00 per person

Tour Details & Highlights: ***Min. 2 people require for each booking***

More sights in less time: Cover three New Zealand highlights in one day
Guided tour of Hobbiton Movie Set
Guided tour of the beautiful glow worms in Waitomo Caves
View Rotorua's geysers, hot springs,Mud Pool and more
Operates daily
Departs: Hotel pickups from 6:30 am, Auckland city.
Duration: 13 hrs, Return to... More...
---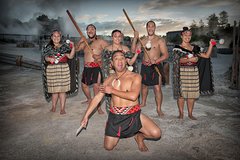 Maori - Rotorua - Starting from $58.00 per person

Nestled amongst a Geothermal wonderland sits the Living Maori Village of Te Whakarewarewa.
View the spectacular landscape of geothermal pools and erupting geysers as you join in a guided tour learning of our Maori Culture, History and Traditions that have been passed down through generations.  Sit back and relax to the melodious sounds of Te Pakira Cultural performers as they serenade you with songs and dance from our people.  Tantalise your taste buds with a Hangi Pie Meal for lunch.  Our... More...
---
Tour Rotorua

Tour Rotorua Area
Emerald Spa Motor Inn
- Motel.
Featuring stylish rooms with free WiFi, a spa bath and a flat-screen TV with 50 cable channels, Emerald Spa Motor Inn...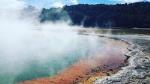 Wai-O-Tapu Thermal Wonderland Option to add Waimangu, Hobbiton or Whakarewarea
- Thermal Spa & Hot Springs - Rotorua.
Starting from $85.00 per person
.
Design your own ideal day with a full-day or half-day tour to Rotorua attractions and Hobbiton. Experience the...