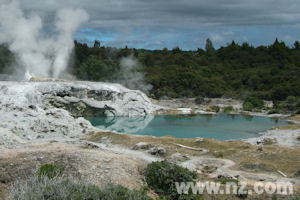 Geothermal Sites
Rotorua is one of the world's most spectacular Geothermal Wonderlands. Geothermal activity, from the Greek geo meaning earth and therme meaning heat, seethes from cracks in the streets, steams from backyard hot pools, bursts from geysers throughout the area, and bubbles from cauldron-like mud pools.
The phenomenal creativity of nature can be seen in all its glory right here in Rotorua. Multi-hued lichens, moss and salt structures blend harmoniously with lush native greens, crystal blue lakes and earth tones ranging from rust to ochre. Splendid examples of silicate and mineral formations rise from and mould into a landscape sculpted by the region's turbulent volcanic activity for thousands of years, and the resulting terraces, valleys and lakes are beyond beauty, they are nature's own art form.
Rotorua and its surrounding areas are charged with a primordial ambiance that challenges the auditory, visual and olfactory senses.
There are five main Geothermal Areas in which a variety of geysers, hot springs, boiling mud pools and hissing craters can be experienced up close.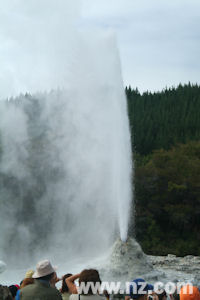 Boasting the largest geyser in the country and approximately 500 hot springs, Whakarewarewa, the living village, is the most visited of Rotorua's Geothermal Areas and is a great place to experience the uniqueness of local Maori Culture.
Hell's Gate is Rotorua's most fierce Geothermal Area with boiling whirl pools, the largest hot waterfall in the Southern Hemisphere and many other truly amazing features.
20 minutes South of Rotorua, Waimangu Valley is a breathtaking tribute to the devastating eruption of Mount Tarawera over 100 years ago. The multi-coloured lakes and stunning landscape make this short trip a must.
Including some of the most colourful volcanic features such as the Champagne Pool, Wai-O-Tapu Thermal Wonderland is set among gorgeous native bush and is a short 20 minute drive from Rotorua.
Scenes from the BBC's Walking with Dinosaurs were filmed in the stunning Orakei Korako and it is not hard to imagine why. Accessible by boat, Orakei Korako, the Hidden Valley, is lauded by Lonely Planet as "possibly the best thermal area left in New Zealand and one of the finest in the world".
Tour Rotorua

Tour Rotorua Area